Journal
Understanding the art of Double Cleansing
by Sapphire Botanics on Feb 25, 2022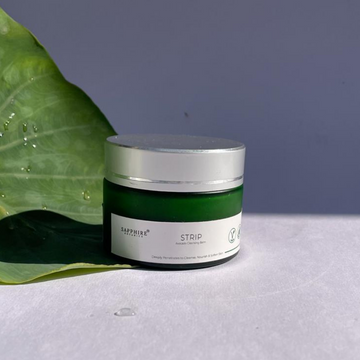 Introduction
If the term 'double cleansing' has you thinking 'Damn, that sounds like a lot of time and work', fret not. Gone are the days when taking off your make-up meant a quick flick round with a face wipe (we've all been there). These days it's all about being skin savvy when it comes to cleansing and putting in the effort for results that are twice as nice.
You know what they say, it's better to be safe than sorry, which is why even a thorough cleanse first time round is always best followed up with a cleansing round two, especially if you're wearing makeup or sunscreen. Step one effectively removes makeup, dirt, and grime, and sunscreen before you can go in with step two to deeply cleanse. In fact, it's the single quickest way to achieve deeply cleansed, smooth and radiant skin.
But what is double cleansing exactly?
Simply put, double cleansing is a two-step face cleansing method. Originated in Japan, this J-beauty method of double cleansing comprises the use of two different cleansers, an oil-based one followed by a water-based one. This results in the skin being left squeaky clean, refreshed, and supple, ready for the next steps in the skincare routine.
The first cleanse….


The first step is to remove makeup, which you probably already do most nights (right?,RIGHT?). The idea here is to use oil-based products, for example, cleansing oil or cleansing balms. 
To begin double cleansing, take a good amount of Strip Cleansing Balm and melt it between your fingers. Massage STRIP onto dry skin in a circular motion for 10 to 15 seconds till the product melts away makeup, sunscreen, excess oil, dead cells, and other impurities from your pores. Soak a clean towel in warm water, and squeeze off till dry. Now cover your face with the warm towel and let it sit for a minute and let the steam open up your pores for deep cleansing. Wipe off the balm and continue with the next steps.
STRIP ( a guacamole in a jar ) is a cleansing balm that deeply penetrates into the skin to clean impurities and remove even the most stubborn waterproof makeup without stripping the skin off of it's natural oil. Using it regularly can help with skin texture and also promotes smooth, even toned skin.
The second cleanse….
Once the first layer of oil and grime is removed, you can use MUD as a second cleanser. MUD pulls out the deeper layer of impurities from pores, including sweat and grit accumulated from pollution.
Wanna know how to use it?
Tap some MUD into your palms and mix with water until you've achieved your ideal texture.Massage it into your skin and rinse off as you would with a regular cleanser. Wash your face every morning and evening with Mud to remove impurities and dirt from clogged pores.Mud controls excess oiliness, removes tan, brightens skin and ensures your pores remain clean and less visible.
You can follow this 2 step cleansing routine with a toner, serum and moisturizer of your choice. You can also follow up with Dew Floral Rejuvenating Mist and Glow Night Repair Elixir to complete your night ritual. DEW is a refreshing and rejuvenating toner that helps maintain the pH balance and also makes the skin look glowy and healthy. GLOW is an elixir that helps reduce acne, breakouts and also minimizes pores. It's also extremely gentle on the skin and helps with hyperpigmentation, reduces fine lines, wrinkles and brightens the complexion.
Benefits of Double Cleansing
The main benefit of double cleansing is that the first cleanser softens the grime and dirt on your skin and then applying the second cleanser addresses a particular concern such as hydration, acne, or exfoliation to rinse it all away.

It is a recommended method even for those who do not wear too much makeup as it helps to remove the sunscreen that has a high tendency to clog your pores.

To address the dead skin cells sitting on the surface of your skin, a second deeper cleanse will help to brighten any dullness and give you a youthful glow.

For your skincare routine to work efficiently it is important for the product to penetrate deeper into the skin. Double cleansing preps your face, making room for any product you apply. This allows it to act as a blank canvas to allow them to flow without any blockage.

Pollutants and dirt can accelerate the aging process. Not only do they cause oxidative damage, but also contribute to the breakdown of collagen and the development of wrinkles and sun spots. In order to avoid such concerns, it is important to double cleanse at least once a day before bed.
How Long Before You See Results?
You instantly start to see results of cleansing. If your face feels tight, it is not right! Double cleansing is an effective way to maintain the pH level of your skin without stripping away the natural oil and retain hydration. Even though it seems like you may be washing your face twice as much as you normally would, it is important to note that the first step aims at breaking down impurities while the second step works at washing it away. 
Double cleaning once a day will definitely show long term results. Within a week you will notice your skin acting calmer and in control. It will feel less tight, more refreshed and radiant. After a month your skin will appear more youthful and brighter. It is a healthy habit to form as it will help to remove the tiniest form of dirt clogging your pores.