Crown - Scalp Treatment Oil
Sale price
Rs. 950.00
Regular price
Rs. 950.00
Tax included.
CROWN, the ultimate Scalp treatment oil is infused with over 20 different healing herbs, extracts & precious oils rooted in Ayurveda and proven by science. This high performance herbal blend will deeply moisturise your scalp to prevent dryness & flakes, treat dandruff and scalp inflammation by nourishing the roots. Crown is here to relieve you from all your Scalp issues from Scalp to dandruff.
1. Nourishes hair and soothes scalp
2. Treats dandruff and scalp inflamation
3. Clarifies to remove dirt & product buildup
4. Relieves itchiness and repairs damaged roots.
Aloe Vera Oil, Coconut Oil Virgin, Jojoba Oil, Olive Oil, Tamanu Oil, Evening Primrose, Avocado, Black Seed (Kalonji) Oil, Oats Oil, Shea Oil, Neem Oil, Nagarmotha, Tea Tree, Lavender, Geranium, Chamomile Blue, Camphor
The Nope List: No toxins. No sulfates. No parabens. No harmful preservatives. No synthetic colors or fragrances. Ever.
Part the hair into sections, apply oil to each partition and massage into the scalp to promote blood circulation and maximum absorption. Leave in for 1 hour or overnight. 
Use 3x per week for best results.
For those with a dry, irritated and flaky scalp and/or product build up
Hair types: straight, wavy, curly and coily.
How long does it take to see results?
It takes 5-6 months on an average to see visible results when on a complete recommended plan.
Ingredients
Soothes scalp conditions that cause inflammation, flakiness, & sensitivity.
Oats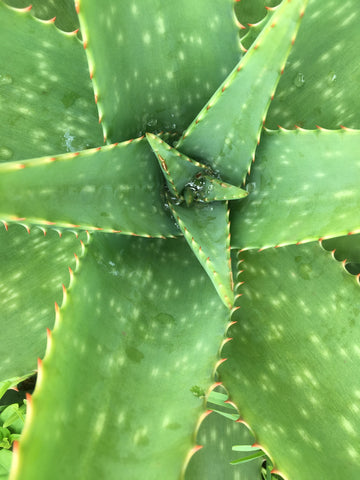 Soothes irritation and moisturises scalp.
Aloe Vera