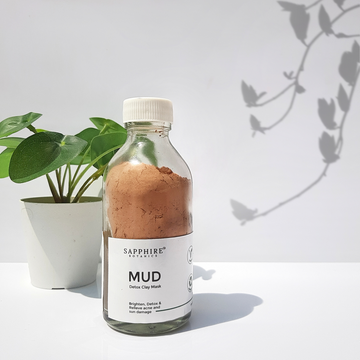 Mud - Detox Clay Mask
Sale price
Rs. 950.00
Regular price
Rs. 950.00
FIND IT IN A SKINCARE SET AND SAVE
1
2
1. Reduces acne, pimples, wrinkles, breakouts and shrinks pores
2. Controls excess oil production and gives natural glow
3. Removes tan, evens out and brightens skin.
4. Improves blood circulation, tightens and rejuvenates skin.
Kaolin clay, French Pink clay, Rhassoul clay, cedarwood and vetiver
Suitable for all skin type
Safe for Sensitive, oily, normal, and combination acne-prone skin. However a patch test is recommended.
How to use Mud ?
Step 1 - Take one teaspoon of mud detox clay in a pot.
Step 2 - Make a smooth paste with water
Step 3 - Apply on your face and let it try
Step 4 - Wash your face with water
Detoxofies and removes tan
I am always looking for a natural ingredients skincare. And then I stopped here. My skin is acne prone and oily with dullness. After using this mask for once a week my skin is definitely better with its added natural glow obtained from this mask.We all know that kaolin Clay is used for acne and Rhassoul Clay is used for both skin and hair.Oh French pink clay it just removes the dead skin cells. Then how can I leave without buying this mask with mixture of these three clays with amazing benefits . If you are like me craving for natural skin glow mask then you should buy this
So I got the mini of mud mask and the first time I applied it I wasn't expecting much other that what a regular clay mask would do. But oh boy was I in for a surprise. It was so smooth to apply, well balanced fragrance not at all overbearing, In fact I felt like I was at a Spa. But the best was after I washed off the mask, my skin felt super soft like a baby's bum. I couldn't stop touching my face. Still to try it on for longer to see the results but the first impression made quite an impact.
Ingredients